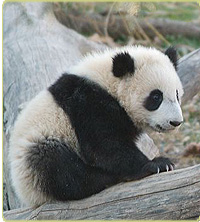 http://nationalzoo.si.edu/Animals/GiantPandas/
Kingdom: Anamalia
Phylum: Chordata
Class: Mammalia
Order: Carnivora
Family: Ursidae
Genus species:
Giant Panda's reproduce using sexual reproduction. They are separate sexes and they fertilize internally. Giant Panda's give birth to live babies and they live alone and take good care of their young. They usually have 2 cubs but usually only one survives. Giant Panda's have many different mates during their lifetime.

GENERAL INFO:
The Giant Panda are vertebrate deuterstomes. They have a true coelom and an closed circulatory system. Giant panda's have an endoskeleton and are warm blooded mammals. The Giant Panda migrates to lower altitudes during the winter for warmer temperatures. Pandas have black and white markings. The legs, shoulders, ears and oval patches around the eyes are black, and the rest of the coat is white. Giant Pandas weigh an average of 200 to 300 pounds and reach six feet in length. They have no special features. There are very few giant panda's left in the wild due to it's declining territory. The Giant Panda are not beneficial to the human race because scientists have not found any of the Panda's body parts useful in modern day medicines or anything else.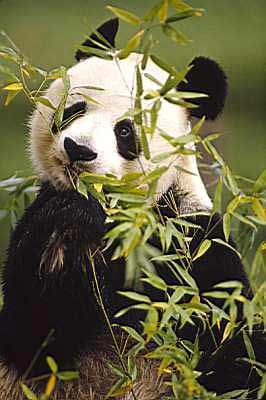 http://academic.scranton.edu/student/LAZAROV2/Food.html
BODY SYSTEMS
The panda's digestive system cannot easily break down the cellulose in bamboo. Their intestines and stomach are not completely adapted to a plant eating diet so they must eat large amounts of bamboo to satisfy their diet and metabolism.
The panda's circulatory system is a closed system, just like humans.
HABITAT:
Giant Pandas are only found in dense bamboo mountains in Central China. These mountains are covered with heavy clouds with heavy rains or dense mist throughout the year. A giant panda's home territory will range from 3.8 to 6.5 square kilometers. These mammals do not live in South Dakota.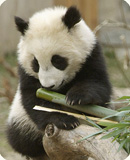 http://nationalzoo.si.edu/Animals/GiantPandas/
DIET:
A Giant Panda's diet is almost entirely 95% bamboo. They are omnivores. They might also eat other grasses, rodents, fish, or fawns. Giant Pandas usually sit upright with their hind legs stretched out in front of them or lay on their backs. While crunching on bamboo, this position allows their forepaws to be free so they can manipulate the bamboo however they want to.
The Giant Panda is an endangered species. They have been hunted by humans for thousands of years. Panda pelts can bring two to three times the average annual income of a rural Chinese peasant in some Asian markets. There territory has also been declining which is the giant panda's source of bamboo. Humans cut down trees where the panda lives. Poaching was considered a serious problem in the past, but is no longer a major problem.

http://nationalzoo.si.edu/Animals/GiantPandas/
http://www.sandiegozoo.org/animalbytes/t-giant_panda.html